'Stop the Bleed' kits make their way into Prescott classrooms
Teachers now have kits able to save lives thanks to the education foundation
Tami Phillips' gut-wrenching shock over the fatal shooting at a high school in her Santa Clarita hometown left her seeking tangible ways to save future lives.
On that November day, she learned the 14-year-old daughter of a friend was spared because a teacher was able to access a bleeding-control classroom kit to bandage her wounds: gunshots to the shoulder and abdomen. The teacher stabilized the teen, who had to wait at least an hour in lockdown before an emergency medical crew was able to transport her to a nearby hospital.
Without such supplies, the executive director of the Prescott Unified School District Education Foundation is uncertain if her friends' child would have survived.
"We're doing it," Phillips said of her determination to find the money to buy such kits for all classrooms.
PREPARING FOR THE WORST
Two months prior to the north Los Angeles area school shooting, Prescott Unified hosted a mandatory "Stop the Bleed" training for all 450 faculty and staff. Phillips was one of the participants.
The goal behind the professional development exercise was to prepare employees with techniques suitable for any trauma with severe bleeding, be it a playground injury, a car accident or the worst-case shooting scenarios.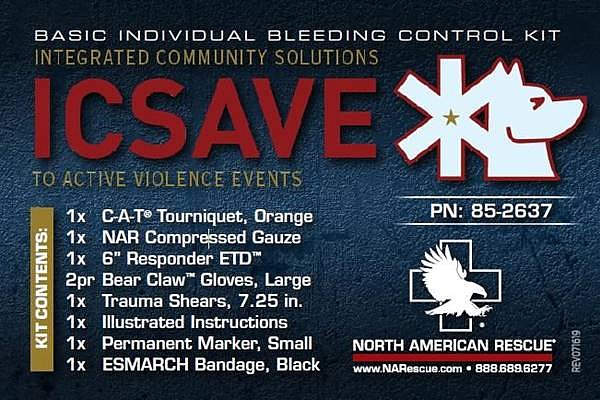 Prescott paramedic/engineer Matthew Reese with the Prescott Fire Department, who works with the Integrated Community Solution to Active Violence Events (ICSAVE) was the PUSD trainer. This week, Phillips said Reese has agreed to do a follow-up training for all new PUSD employees.
At the first training, Superintendent Joe Howard voiced his desire to have kits for every classroom, but knew that wasn't something the district could afford in its operations budget.
The Stop the Bleed training was started by medical professionals and government officials after the 2012 Sandy Hook school massacre in Connecticut that claimed 26 lives — 20 of them first graders. Their intent was to increase survival rates during a mass- casualty event.
Yet the training is suitable for anytime someone suffers a bleeding injury, Reese said.
For Phillips, the close-to-home shooting was a sharp reminder that what she learned in that training session was no idle lesson.
In a tearful appeal, Phillips implored the foundation board members to make it a financial priority to obtain enough kits for every classroom in the Prescott Unified School District.
Their answer was a resounding "Yes."
OTHER QUAD-CITY SCHOOLS
Chino Valley Unified School District Superintendent John Scholl said Monday, Aug. 31, that the Chino Valley Police Foundation raised money to buy the "Stop the Bleed" kits for CVUSD schools in the last few years, and faculty and staff have received training.
"We've had these for a while, and fortunately we haven't had to use them," Scholl said. "The Chino Valley Police Foundation took the lead on this and made sure we had them, which was great."
Representatives for the Humboldt Unified School District did not immediately return a phone call from the Courier.
PREPARED FOR THE WORST
Fast forward to the start of this 2020-2021 school year.
Through its fundraising efforts, the foundation was able to invest $17,000 to purchase basic bleed-control kits from North American Rescue to cover 240 classrooms in the district's six schools, Phillips said. All of the kits are endorsed through the national Stop the Bleed program, she said.
Each of the bright red kits, which cost about $60 each, contains two types of a tourniquet, one for small children and one for older teens or adults; emergency trauma dressings, compression gauze pads, gloves, a pair of scissors, and a marker in case someone needed to write a message or mark a location, she said.
Though school is not now in session, Phillips said the kits will be available when they do return. Phillips' kit is in the top drawer of her desk on the first floor of the district offices' at Washington School.
Another 100 kits are to be purchased to cover the district bus fleet and all school offices.
The foundation donated $2,000 toward the project with the bulk of the remaining costs picked up by three other major donors: the Harold James Family Trust — Jenna James is president of the foundation board; the Jewish Community Foundation and the Perry and Sandy Massie Foundation.
Phillips said there were also some individual donors who have contributed to this lifesaving effort.
"I'm just thrilled that every teacher has this in their classroom," said PUSD Director of Professional Development Kelli Bradstreet.
After the training, she said she had a number of teachers who said how much they appreciated learning the skills but feared without the equipment they would not be able to do what they were taught.
So Bradstreet is grateful the foundation was willing to make this project a reality.
"Just knowing we can save a life, even if it's just in one classroom, because we have this equipment it's worth all the money," Bradstreet said. "And we wouldn't have been able to do it without the foundation."