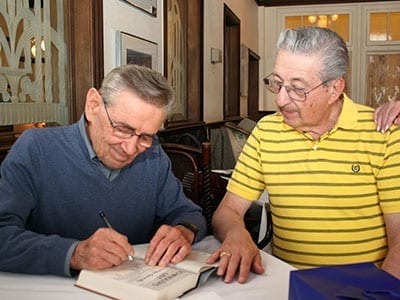 Leon Lyson
A Child on Schindler's List
Leon Leyson was born on September 15, 1929 in Narewka, Poland, the fifth and youngest child of Moshe and Channah. Leon's Polish name was Leib Lejzon. Narewka was a small farming community located 325 miles northeast of Krakow and had been home to the Leysons for generations. Most of the family had been farmers and had lived a simple life revolving around the land and their Jewish faith. Leon's father, however, was not a farmer but instead was employed as a tool and die maker at the small glass factory in Narewka. Not long after Leon was born, the glass factory relocated to Krakow and Leon's father was given the opportunity to move with the company to Krakow. Leaving his wife and five children in the care of their extended family in Narewka, Leon's father moved to Krakow with a plan to have the family follow him after he got established.
In 1938, Moshe was finally able to have the family join him in Krakow, a move that ultimately saved their lives. To young Leon the city of Krakow was a wonderland of new and exciting experiences, with its tall buildings, streetcars, and electric lights. In the fall of 1939, Leon's dream of a new life in Krakow became a nightmare when the Nazis invaded and occupied Poland. His older brother Hershel made his way back to Narewka only to be murdered by the Nazi killing squads two years later. Leon's father was arrested and imprisoned for three months. Following his release, Leon's father lost his job and the family was evicted from their apartment and forced to move to the Krakow ghetto where 15,000 Jews were crammed into an area that had previously housed 3,000 people.
The Leyson family seemed destined to meet the same fate as did almost 3 million other Polish Jews – either to be murdered by killing squads or sent to the gas chambers at Auschwitz. However, it was the father's reputation as a skilled machinist that led to a chance meeting with their ultimate savior.  Not long after Oskar Schindler began his factory operations at the Emalia Enamelware factory in Krakow, Schindler needed the factory's safe opened – and it was Leon's father that Schindler requested for the job. Moshe Leyson then became one of Schindler's first employees.
In the summer of 1941 the SS troops descended on the Krakow ghetto and rounded up those Jews who did not have a proper working permit. Leon remembers the "absolute feeling of fear" as the SS soldiers took his brother Tsalig from their apartment. It was the last time Leon ever saw his brother, who probably died at the Belzec death camp. The remaining five members of the Leyson family came to work in Schindler's factory with Leon being one of the youngest in the eventual work force of almost 1200 Jews. From 1939 until the Allied Liberation of 1945, Schindler kept his Jewish workers and the remaining Leyson family safe from the worst of the atrocities that so many Jews suffered at the hands of the Nazis.
After liberation the Leysons made their way back to Krakow, Poland but left Krakow because of continuing anti-Semitic sentiment. Leon's brother, David, and his sister, Aviva, made their way to Czechoslovakia and from there to Israel where they live today. Leon and his parents made their way to a Displaced Persons Camp in Wetzlar, Germany and then immigrated to America in 1949, settling in Los Angeles. Leon served in the U. S. Army during the Korean Conflict, finished his education, and became an Industrial Arts teacher at Huntington Park High School in Fullerton, California, where he met his future wife, Elizabeth. Leon is now retired after 39 years of teaching and he and Elizabeth spend time with their two children, Daniel and Stacy, and their four grandchildren, Nick, Tyler, Bryan, and Mia.